Whether you want a plowed driveway after a snowstorm or a well-developed medical manuscript, you need a seasoned professional to make sure the job's done right.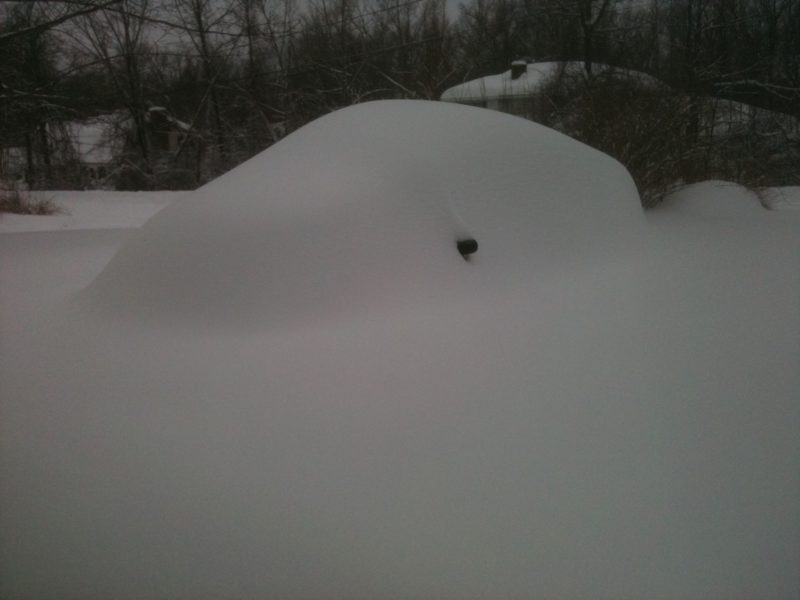 When I awoke this past Saturday morning to find two feet of snow, my first thought was to grab a shovel so we could get Susana's car out of the garage. Two hours later, and with some help from my two youngest sons (who reluctantly agreed to help after they realized they wouldn't get to eat breakfast otherwise), I had succeeded in clearing a path from the garage to the end of the driveway. Our driveway is not very long — a bit more than three car-lengths, and wide enough for two cars — but the effort left me exhausted. Still, I was proud of the work I had done, as we were now able to take the car out if we needed to.
However, my pride and satisfaction were short-lived. There was still the matter of my buried car (see photo). Our garage has only one bay. At one time it had two bays, but a previous owner, who custom-made golf clubs, had converted one of the bays into a "golf room," complete with an Astroturf putting green. When Susana and I bought the house 14 months ago, we had thoughts of re-converting the golf room into a second garage bay, but that idea has been shelved due to lack of funds (and motivation). Since Susana's Subaru Outback is newer and has 4-wheel drive (and is therefore a safer and more reliable vehicle in inclement weather), we decided that the garage would house her car, and I'd park my 2000 Saturn sedan outside in the driveway. While that decision has resulted in regular sessions of shoveling, scraping, and clearing of snow away from my car, I've accepted it as a small price to pay for living in beautiful Western New England.
But as Saturday continued to unfold, we realized that my shoveling job, no matter how heroic, was inadequate. As I tunneled my way out of the garage, I had created a long, tall mountain of snow that completely blocked access to my car. Even without that mountain, there was still the matter of two feet of snow on that side of the driveway. Although I had no plans to drive my car that day, I knew I'd need to use it the next day, but I was now too exhausted to lift the shovel again. We therefore placed a call to our neighbors, who've arranged to have a guy named John plow their (much longer) driveway after snowstorms. They gave us John's number, and he agreed to come over and finish the job I'd started.
Indeed, John came over a few hours later, and in addition to clearing a path for my car, he smoothed out some of the bumps my shovel had left, and also moved a drift that was blocking our mailbox. It turns out that John, an exceedingly nice guy, lives one street over, and has fond memories of our house from when he was a boy, and our house was the only one on our street. At that time our house was owned by a lovely lady who allowed the neighborhood kids to play in the back yard and the stream that runs alongside the property (this was long before the house was owned by Mr. Custom Golf Clubs). John said she always provided cookies and cold drinks for all the kids, who were her biggest fans.
What does all this have to do with medical writing? Well, Saturday's experience made me realize that snow-clearing and medical writing have some notable parallels. Let's say you're a clinical researcher who's writing a journal manuscript, or an agency account executive who's writing a press release or a  summary of an important clinical trial. Just as I thought I could save some money by shoveling my driveway myself, you may feel confident in your ability to produce a coherent, effective document without having to hire a professional. But after writing your first draft, your supervisor tells you it's riddled with typos, verb-tense disagreements, or hackneyed prose. Even if it's factually correct, the draft may still contain repetitive language, or may lack a concise, incisive analysis of the data.
This is when you need a medical writer, someone who, like John the snow-plow guy, has been there before and knows how it's supposed to be done. You may be reluctant to spend the money, but as the saying goes, you get what you pay for. A seasoned medical writer can make your manuscript "sing" by making the prose more engaging, inviting the reader to learn more and pay attention to what you have to say. With a keen attention to detail, a medical writer can catch the typos you may have missed, and can raise questions that may prompt you to reexamine the data and reconsider your conclusions. Perhaps most importantly, a medical writer can advise you on how to make the document resonate with your target audience, possibly making the difference between publication and oblivion.
A medical writer can be a valuable resource in times of need. Please consider hiring one when you're feeling snowed under. You can even invite him in for hot chocolate after he's finished the job.